Page 2
Our regular treat would be to get Hake or deep fried steak and kidney pie (lovely grub!) and three penn'orth of chips from Selwoods chip shop on the corner of Downing Street, (I think it's now a Chinese takeaway) and walk home past The King pub, the petrol station and the Post Office, under the railway bridge and then past St. Andrews Church and, crossing Nash Road, walk into Lliswerry Road.
There was also a little cabin-style shop where I used to buy batteries, alongside and on the left before you went under the railway bridge ( click here for picture ) and Thompsons Avenue just beyond. There were bus stops at this bridge - one in each direction. Between the Williams' Post Office and their petrol station/garage, was a lane called "Black Ash Path" (now Kitty Hawk Drive) which went down to the "ditch" and turned right going all the way to eventually reach Corporation Road. As you turned right, there was a small-holding where they had all kinds of fowl. Chickens, and geese which would scare the pants off you as they were very fierce. The Lliswerry reen (stream) ran along side the path for a short distance and this path widened out into a large area of waste ground, where the travelling fairs used to visit once a year. They moved to that location after Nash Grove was built.
I occasionally played around that area with the Jordan twins, Tony and Alan, who lived in Downing Street. They also had an elder brother. Though they were twins, they were non-identical, but the bond between them was very strong, and this was never more in evidence than when Tony had a terrible accident on his 19th birthday. All his friends, and I was one, were devastated by this accident, no one more so than Alan who actually witnessed it happening. My Gran was the first to tell me having read it in the Argus, May 20th 1965. She said " You know Tony Jordan, don't you?", "Yes", I replied, " he's one of my mates". She then told me that a low-life hit and run driver had crashed into Tony, who was on his motorbike, and didn't stop; but dragged poor Tony for 185 yards along the road, tearing his leg to pieces. Another friend, Dennis Titlark, and I went to the Royal Gwent to see him, and we bought him some "fags" on the way. Neither of us had seen Tony or Alan for a couple of years, and he was pleased to see us. We weren't the only ones though, the Jordan twins were very popular lads, and "The Gwent" were encouraging as many of his friends to turn up as possible. We all vowed that if we ever found out who had done this terrible deed to Tony, we'd mete out a suitable act of retribution to the scumbag.
There were a set of identical twins that lived in the house by the cabin next to the bridge in Somerton Road. These were beautiful girls, and I do not exaggerate. They were a few years older than me, but I fancied the pair of them, although I knew I was probably behind a very long queue. They continued to dress identically well into their twenties, and always seemed to go about together. However, I had still not forgotten my first love, and she was to make a re-appearance later....
There was an old lady who lived in Nash Road who we heard almost daily shouting about "German spies" being every where and she'd ramble on about the war as she walked around, even though the war had long since finished. Us kids were quite afraid of her really, but as we got older we went through the phases of laughing at her then pitying this poor tortured soul when we matured. I often saw her when I walked our dog "Spot", a Sealyham/Corgi cross mongrel who was all white except for one black ear (I've still got a picture of him somewhere). We would walk down to Spytty Park, and sometimes I would let him off his leash, whereupon he'd make a bee-line for the neighbouring field, wherein resided a few cows and, - yep! - you've guessed it, after about ten minutes looking for him, he'd re-emerge in a new khaki coloured coat that had a very distinctive odour. If I was able to catch him, I'd dunk him in Spytty stream to wash this muck off him, but old Spot was crafty, he would often sneak off and run home leaving me searching for him, and having to face the music when I got back and I would have to give him a bath, which resulted in me getting wetter than him. He passed away in early 1962, shortly after our pet budgie Tony. They were both buried in the garden at number 16.
On Saturday afternoons, you could hear the roar of the crowd from Somerton Park football ground, which was about half a mile away. The local pubs, the Black Horse and The King, and the Cross Hands on Chepstow Road, doing a roaring trade being the nearest to the ground. Selwoods fish and chip shop on the corner of Downing Street, would also benefit from this large crowd as they made their way home or to the pubs.
There was also a general shop on the corner of Camperdown Road, where we obtained packets of chewing gum from the vending machine. This shop had a number of vending machines, one of which was stocked with cigarettes, another with chocolate bars, a milk vending machine too, another with packets of plain crisps, which contained the "twist" bag of salt, and the first of the flavoured crisps - Oxo flavour. I used to really enjoy that flavour, especially after going to Maindee baths where I learned to swim. We would swim for several hours. One of my school classmates was Chris Jaynes, whose father worked there, and he always allowed us to stay as long as we liked. We would buy a hot cup of Oxo, and whilst drinking that would enjoy a paste sandwich and a packet of Oxo crisps. I cannot understand why that flavour was ever discontinued, it was a wonderful taste. Then gathering up our cossies and towels, would walk or cycle back to Lliswerry, a journey of about two miles.
In Camperdown Road lived another lad, Alan Eaton, who lived a couple of doors from the Baptist Chapel, where I had been a member of the congregation for many years. Alan and I used to play around the railway shunting yard at the rear of Camperdown Road, and one day we explored the air-raid shelters nearby, which we had to access via some heavy steel covers, and climb down steel ladders. It was very spooky down there, and I was never in a hurry to return.
In Frobisher Road lived Wayne Bennett. Now Wayne went to Stow Hill with Gil and I, and he would be missing for most of the term, but he always managed to keep up, and invariably secured good grades, he was a clever lad.
We would while away many hours trainspotting at the old "crossings" in Lliswerry Road. The signalmen in the nearby signalbox which was sited on the south side of the railway, approximately 100yards east of the crossings, used to shout at us when we would put small pieces of stone on the rails and watch them being crushed under the wheels of the locomotives. These were the "real" trains, the leviathons of the steam age. They sometimes bore names such as "The Red Dragon" which filled our Celtic hearts with pride as we watched this locomotive thunder by. There were other names, but we kept a record more of the numbers, and even purchased copies of a book which had all the numbers listed. This book made our task so much easier - all we had to do was look up the number and underline it. To the left of the crossings was a low cattle bridge which had not been used for that purpose for many years, but was used by the locals when the gates were closed. Occasionally, in the earlier days, we would see sheep being driven between the fields on both sides of the railway, through this tunnel. The farm gate on the Moorland Avenue side was located midway between the railway and the beginning of the houses of Moorland Avenue. This gate was to provide the very first gateway to Llanwern steelworks. At this point now, there is a roundabout, and the former field is now Moorland Park.
On days that we weren't trainspotting, we would go to the other side of the railway, and enter the waste ground around Lliswerry Pond. Carrying fishing rods made of bamboo cane and "line" made of green waxed string, occasionally a "proper" hook, but more usually a bent pin or safety pin, maggots we'd scrounge from the "Kem", many an idyllic afternoon would be spent at the side of the pond. We always called it "the quarry", as it was a pond that had been created (so it was said) about a hundred or more years previously, by quarrying work being carried out there, and a spring was ruptured causing the quarry to flood. There were rumours that this flooding resulted in the drowning of some quarrymen, but this was (to my knowledge) never substantiated. The whole of this area was used as a playground by the kids of Lliswerry, Somerton, Alway, and much later Ringland Estate. The higher ground was known locally as the "Golf links", although no-one could remember it ever having been used for that purpose. It stretched from the "Quarry" all the way up to Maple Avenue, and this hill was split by "the cutting". This "cutting" was a narrow track which had been carved out to carry a small railway line from the quarry towards Chepstow Road. The sides of it had a white appearance, where the more familiar red clay of the area gave way to chalky soil. There was an embankment which extended to the remnants of some old workings near the main GWR railway line.
It was near this embankment that I had my first sex lesson. A certain young lady of my acquaintance (who will remain unnamed) had told me of this new game she had found out about. As it turned out, she hadn't quite got the mechanics quite right, but the general idea was there. Whilst trying out this new "game" I had the irresistable urge to have a "wee", and did so. Needless to say, she was not exactly pleased and called me a few un-ladylike names. Not surprising, and quite justified really, but we were only seven years old. Almost immediately, we saw a middle-aged man who was cycling along the embankment. He spotted us, shouted "you dirty pair of buggers" and promptly fell off his bike. The young lady and I legged it as fast as our little legs could carry us, whilst trying to adjust our clothing at the same time. All I will say is that she lived in Thompsons Avenue, and we ran all the way back there with the man's words "I know who you are, I'll tell your parents", ringing in our ears. We never heard any more about this incident, and we split up shortly afterwards.
The "cutting" was later widened to become Aberthaw Road, taking advantage of previous workings, and ran from Chepstow Road, through to Lliswerry Road. There had been a rough partial road from Lliswerry Road up to Alway School for several years, and this was the improvement that fed the Ringland Estate which was being built. As access to Alway and Ringland no longer needed access via the "crossings", these were closed in 1960, and the signalbox demolished. There was also a new bridge built across the railway between the Llanwern steelworks and Ringland Estate, which also made the old "crossings" surplus to requirements. This linked up with a road around Spytty Park from Corporation Road.
From the Lliswerry Hotel up to Dent's Hill, Lliswerry Road was renamed - Ladyhill Road. Off to the left as you travelled up the hill a turning into Alway Estate was Vaughan Williams Drive. This was the only "private" road in the area, and the local councillor Mr Alf Lovell (who had a lovely daughter Judith, who apparently passed away in recent years) lived here. This road was also the only road in the area that was more like a mountain track in the Himalayas. It remained so for many years, until the locals realised that by saving a few measly quid on having a road surface it was ruining their cars and actually having a negative equity value on their houses. I had a few friends living in Alway Estate and Ladyhill Road, and spent quite a lot of my time there....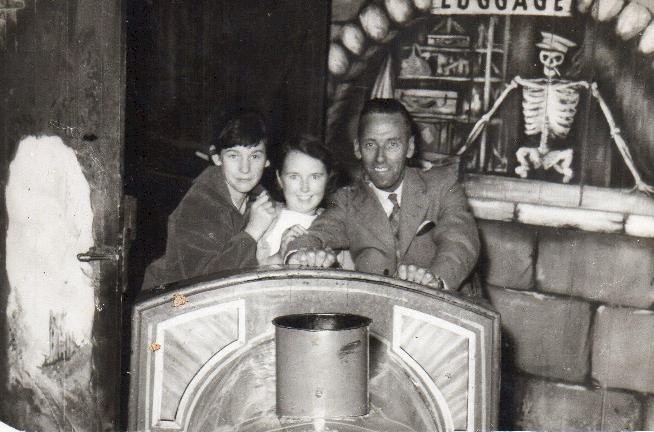 Alf Lovell with daughter Judith and her friend Doreen (who contributed this picture) on a visit to Porthcawl (the chap in the background is unidentified)
ŠLen Jones 2009